Who we are:

Actually, RoomRecess.com is run primarily by one person, me. I have taught elementary school for 18 years, spending 7 years teaching 3rd grade, 10 in 6th grade (currently), and 1 year in 5th. I absolutely love designing educational games for kids. With each year, technology is becoming more and more integrated into the classroom; it's important to teach and reinforce educational concepts at the students' level and within their mode of learning. So I thought, "Why not merge the two and present it in the form of a game?"
How it all started:

RoomRecess had a very humble beginning. In February of 2013 I decided that I wanted to learn a computer language that would allow me to create programs with graphics and music, something my students would enjoy more than the True Basic programs I had them working on. A good friend of mine suggested Action Script 3, and away I went. Within a week I had completed my first game, Cheese Race, but I had yet to see how the children would respond to it. So one morning, when it was very cold outside and the children were all in the classroom for recess (because the PE teacher was using the gym), I asked if there were any volunteers that might be interested in testing a multiplication game that I had been working on. To my surprise, they ALL wanted a turn. I knew instantly I was on to something and spent the next few months churning out simple games about once a week.
Gaining Interest: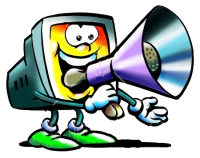 For the first few months, RoomRecess attracted a very modest crowd, which is to say only students from my own school corporation. I joined a few teacher forums to help get the word out and gained about a dozen more visitors a day that way, not bad. But then along came David Kapuler, author of the award nominated Ed Tech blog, Technology Tidbits. David wrote a blog about RoomRecess, adding a link to my site on his blog, a pin on Pinterest, and linking RoomRecess to Edshelf. I had no clue how one event could attract so much attention. Within hours the number of visitors to RoomRecess had grown by a factor of five! Since then, a number of highly respected educational bloggers have shared RoomRecess.com with their followers, many of whom are listed on my credits page.
Moving Forward:

My goal for RoomRecess is simple: Continue to produce quality educational games for elementary students. Being a full time teacher and coding alone makes that difficult to do so quickly, but I am very passionate about creating new and better games. Currently, my goal is to create games that can be played on ANY device. You can find those on my mobile games page. I also want to create games that reinforce concepts that are in high demand in the classroom. So if there are skills or concepts that you are having trouble finding in game-form on the Internet, don't hesitate to email me with your thoughts. I'll more than likely stash that idea away for awhile, but at least it will be there when it's time to begin a new project.